SHOP
Our shop stands near the entrance of the nursery and we are conscious of stocking only goods associated with the garden, for the avid gardener. This includes tools by Wolf, Felco, Bahco and Spear and Jackson. Johnsons (Mr Fothergills) vegetable and flower seeds. A wide range of different fertilisers, weed and pest control, grass seed, wheelbarrows etc.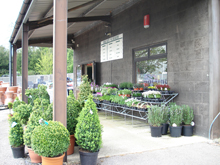 At Christmas we produce our own range of table decorations and door wreaths with a large percentage of the fresh foliage taken from the nursery site. Only fresh Christmas trees are available.

Compost is available from the J. Arthur Bowers range and includes everything from a small bag of orchid compost to a large bale of bark.